Buswell Library Archives & Special Collections holds a wide variety of rare book collections, including more than 200 editions of John Bunyan's Pilgrim's Progress, many early texts by and about influential theologians and ministers like John Wesley and Jonathan Edwards, and hundreds of other manuscripts on Christian life, missions, art, and history. A few of these books also include inscriptions and marginalia – the scribbles, notes, and other markings made on the cover pages or in the margins of texts. These extra-textual materials often provide unique insights into the history of a book, as well as its impact.
Marginalia as Scholarship
Throughout the history of scholarship, books have acted not just as vessels of information but also as invitations into wider conversations and the movement of ideas. This can be seen explicitly through the long history of marginalia in influential works of theology, literature, and science. One of the most fascinating examples of this type of scholar-marginalia in our collections can be found in SC 10: General Rare Book Collection's copy of Martin Luther's Operationes in Psalmos, published in Wittenberg around 1519 or 1520.
Although Luther's commentary on the Psalms is a valuable text in its own right, the distinguishing features of this copy are the frequent notes made in the margins. Written in two different hands, these extra-textual comments can be found across the entire work. The second reader remains unknown to us, but the first signed his name to the front piece, Sigismundus de Monte de Grimmis. Sigismundus was a student of Luther's, meaning he likely annotated this copy of Operationes while studying in Wittenberg sometime between 1521 and 1526.
Among the many notes in his hand: "Fides sola: est via domini." Faith alone, is the way of the Lord. The full text of Operationes in Psalmos can be viewed online at https://archive.org/…/OperationesInPsa…/page/n3/mode/2up
Marginalia as Artifact
While some marginalia or inscriptions give insight to ongoing scholarly discussions or reader responses to texts of cultural significance, other examples become artifacts in their own right through the identities of their once-owners. Signed or notated by famous authors or historical figures, these extra-textual additions come to define the character and value of the work.
Within SC 01: William S. Akin Rare Book Collection lies once such text, a unique copy of John William Cunningham's Sancho, or The Proverbialist. It is Charlotte Bronte's autographed copy to her husband, Arthur Nicholls (inscribed on the flyleaf and title page) and contains Nicholls' marginalia written after Bronte's death.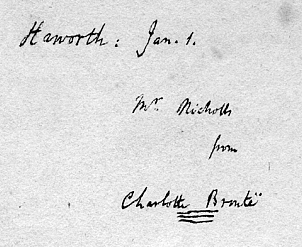 Arthur Bell Nicholls was the fourth suitor to propose marriage to Charlotte Bronte. He was a curate in her father's parish at Haworth and his surprise proposal resulted in a firm refusal by Rev. Bronte and Charlotte herself. Mr. Nicholls eventually resigned and left the village, but would soon resume his correspondence with Charlotte. By Christmas of the following year, he and Charlotte resumed meeting together and eventually changed Rev. Bronte's mind. The two were married in June 1854 and after spending a month honeymoon in Ireland returned to Haworth and Nicholls resumed his duties as curate. Their happy marriage would end tragically as Charlotte died the next spring during the early months of their first pregnancy.
Another unlikely text in our collection with a recognizable named hidden inside is Outlines of Geology (1941). Scrawled on an elaborate bookplate in the inside cover is the signature of a young Billy Graham. The book is part of a series of textbooks about geography, anthropology, and biology held by Archives & Special Collections that were once owned and used by Billy Graham and his future wife, Ruth Bell, while they completed their undergraduate studies at Wheaton College during the early 1940s.
The texts are full of the vigorous underlining and highlighting typical of college students. Almost all the accompanying notes are summaries of key points from the textbook. The once exception occurs on a page introducing the pre-Cambrian history of earth, where a penciled reference to Genesis 10:25 appears, "Two sons were born to Eber: One was named Peleg, because in his time the earth was divided; his brother was named Joktan" (NIV).
The reference offers little context but provides a brief window into one student's experience of Christian liberal arts education.
Marginalia as History
In some cases, marginalia also deepen our knowledge of a text by providing unique local insights or preserving the reaction of readers contemporary to the work. In 1930, Wheaton alum J. Wesley Ingles published the novel Silver Trumpet. It tells the story of D. Randall MacRae, wealthy student and local football hero who, pursuing a girl, transfers from ivy-walled Princeton to the small "Wharton College," a Christian institution situated somewhere west of Chicago.
The parallels between "Wharton" and Wheaton College are not subtle, and yet the almost 100-year gap between J. Wesley Ingles' time at Wheaton in the late 1920s and the present day creates a very different experience for the modern reader than that of Ingles' contemporaries.
One copy of Silver Trumpet held by Archives & Special Collections provides a view of this lost contemporary reception. Originally owned by another Wheaton student of the era, Jean Mortenson, the copy includes Mortenson's notes of her thoughts on the real-world counterparts that might have inspired some of the characters and places of Ingles' fictional account.
Marginalia as Process
Although many examples of marginalia illustrate the reaction of a reader to a set text, others show how a work itself may change over time. The below example, from the poet and author Luci Shaw's Polishing the Petoskey Stone (1990), includes the author's notes and revisions on her own poem. Possibly made for public readings or new editions, they present a picture of a text in continual progress, as well as the ongoing relationship between an author and her work.
For more information on the many rare books held by Buswell Library Archives & Special Collections, read this overview of our Rare Book Collections or search the Buswell Library catalog.